Leleti Khumalo is a popular South African actress, musician, and radio presenter who was born on 30th March 1970 in KwaMashu, South Africa. She is popularly known for her leading role in the movie and stage play Sarafina and for her roles in other films such as Hotel Rwanda, Yesterday and Invictus.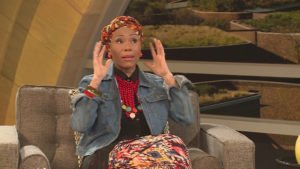 Leleti Khumalo Age
She was born on the 30th of March 1970 in KwaMashu, South Africa. As of 2019, she is 49 years old.
Leleti Khumalo Husband
In 1992, she got married to Mbongeni Ngema but they divorced in 2005. She later got married to businessman Skhutazo Winston Khanyile in 2012. Skhuthazo is two years her junior and together they have twins
Leleti Khumalo Children
She gave birth to twins on 24th May 2013, Ulwenzile Khanyile and Yamukelani Khanyile. She also had a child for her ex-husband Mbongeni totaling to three children
Leleti Khumalo Net Worth
Information about her net worth will be updated soon.
Leleti Khumalo Plays
Sarafina, 1985.
Mama, 1996.
Sarafina 2, 1997.
The Zulu, 1999.
Stimela SaseZola, 2003.
Leleti Khumalo Movies
Sarafina!, 1991.
Cry, the Beloved Country, 1995.
Yesterday, 2004.
Hotel Rwanda, 2004.
African Skies, 1991.
Generations, 2005.
Leleti Khumalo Award
1988: She received a Tony Award Nomination for Best Actress in a Musical. Sarafina!
1987: She received a NAACP Image Award for Best Stage Actress.
Leleti Khumalo Twitter
Leleti Khumalo Instagram
Leleti Khumalo News
Adopted from all4women.co.za
Veteran actress Leleti Khumalo has opened up about the pain of losing one of her triplets at birth, which resulted in her spiraling into depression.
During an interview with Drum magazine, Leleti revisited the traumatic experience.
She said that living with vitiligo during the death of her baby heightened the feelings of depression and worthlessness. Vitiligo is a skin condition which causes the skin to lose its color.
"Losing my child was one of the hardest moments in my life. I was left with too many questions – I cried, I prayed and I blamed myself. It was a double tragedy for me as I had to deal with my skin condition at the same time," she said.
Leleti added that her husband Skhuthazo's unwavering support and love helped her get through that dark time and accept her skin condition
"I wouldn't be the mother I am if he was not as involved as he is. He is more involved than I am with the twins. I said, 'If you were not around I don't know how I would have made it'. I can hold on to my career. It is important because it completes me," she added.
Leleti has become an advocate of raising awareness about the disease and often tells fans on social media that there is nothing to be ashamed of.