Leleti Khumalo is a popular South African actress, musician and radiopresenter who was born on 30th March 1970 in KwaMashu, South Africa. She is popularly known for her leading role in the movie and stage play Sarafina.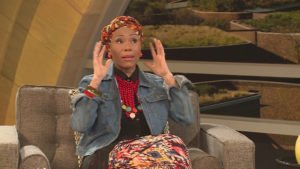 Leleti Khumalo Age
She was born on the 30th of March 1970 in KwaMashu, South Africa. As of 2018, she is 48 years old.
Leleti Khumalo Husband
In 1992, she got married to Mbongeni Ngema but they divorced in 2005. She later got married to businessman Skhutazo Winston Khanyile in 2012. Skhuthazo is two years her junior and together they have twins
Leleti Khumalo Children
She gave birth to twins on 24th May 2013, Ulwenzile Khanyile and Yamukelani Khanyile. She also had a child for her ex husband Mbongeni totalling to three children
Leleti Khumalo Net Worth
Information about her net worth will be updated soon.
Leleti Khumalo Plays
Sarafina, 1985.
Mama, 1996.
Sarafina 2, 1997.
The Zulu, 1999.
Stimela SaseZola, 2003.
Leleti Khumalo Movies
Sarafina!, 1991.
Cry, the Beloved Country, 1995.
Yesterday, 2004.
Hotel Rwanda, 2004.
African Skies, 1991.
Generations, 2005.
Leleti Khumalo Award
1988: She received a Tony Award Nomination for Best Actress in a Musical. Sarafina!
1987: She received a NAACP Image Award for Best Stage Actress.