Advertisements
Mmusi Maimane (born 6 June 1980 in Transvaal Province) is a South Africa politician and the leader of South Africa's opposition Democratic Alliance (DA) political party.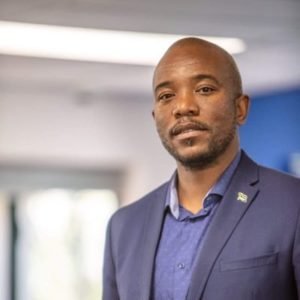 Mmusi Maimane Age
He was born on the 6th of June 1980 in Krugersdorp, South Africa. As of 2023, he is 43 years old and celebrates his birthday on June 6th every year.
Mmusi Maimane Family
His mother's name is Ethel Maimane while his father's name is Simon Maimane.
Mmusi Maimane Wife
He is married to Natalie Maimane and their wedding held in 2005 and together they have two children.
Mmusi Maimane Wedding
Mmusi and Natalie met at church. As a result of their relationship eight months later, they got married but obstacles and racial tensions were a reality. Hence, they had to dispel misconceptions about their interracial marriage.
Mmusi Maimane Education
A former student of Allen Glen High School, where he matriculated in 1997.
A graduate of the University of South Africa with a Bachelor of Arts in Psychology.
Masters Degree in Public Administration from the University of Witwatersrand.
Masters in Theology from Bangor University, Wales.
Mmusi Maimane Political Career
He applied in 2010 to run as a DA candidate for Johannesburg City Council and also for internal election as the DA candidate for Mayor of Johannesburg. In 2011 he was selected as DA National Spokesperson.
At the 2012 DA Federal Congress, they elected him as Deputy Federal Chairperson. He applied to run as the DA candidate for Gauteng Premier in 2013.
In the 2011 Local Government Elections, he lost, therefore, taking up the position of Leader of the Official Opposition.
In Council, Maimane was on the Finance Committee, and also on the Governance Committee that he personally pushed to have constituted.
The DA grew its share of the vote in Gauteng substantially in the 2014 election with Maimane at the helm, but notwithstanding, the ANC retained control of the province.
Following this, Maimane was against serving in the provincial legislature and was instead sworn in as a member of the National Assembly of South Africa.
The DA's parliamentary caucus met on 29 May 2014 to decide on new parliamentary leadership.
Maimane was the only candidate for the post of Leader of the Opposition in the National Assembly.
He was elected as the new Leader of the Opposition, becoming the first black male to hold the position in South Africa's history.
On 5 June 2014, at Parliament in Cape Town, Maimane announced his Shadow Cabinet.
Furthermore, on May 10, 2015, he became the leader of the DA at the party's 2015 Federal Congress in Port Elizabeth.
Mmusi Maimane Net Worth
He has an estimated net worth of $2 million which he has earned as a politician.
Contact Details
DA Leader's Office
Phone: +27 (0) 21 465 1431
Fax: +27 (0) 21 466 8394
Email: leader@da.org.za
Postal Address:
P.O. Box 15
Cape Town
8000
Twitter
Advertisements
Instagram
Advertisements