Advertisements
Moonchild Sanelly (born 20 November 1987) whose real name is Sanelisiwe Twisha is a popular South African musician and dancer. 
She is popular for her signature blue-coloured hair and her self-created music genre called "Future ghetto punk".
She came into limelight after her hit collaboration "Midnight" with Dj Maphorisa. Her sound is very unique and she calls it "Future Ghetto Punk".
Moonchild Sanelly has worked and performed with the crème de la crème of the music industry. Some include Beyonce, Busiswa, Wizkid, Dj Maramza, Dj Maphorisa and many more.
Many don't know that apart from being a musician, Moonchild Sanelly is a fashion designer. She went to Fashion School to study fashion design as a course.
Advertisements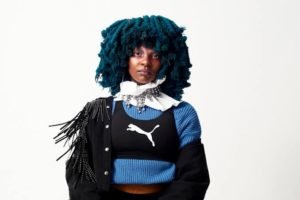 Moonchild Sanelly Age
She was born on November 20, 1987, in Port Elizabeth. As of 2023, she is 36 years old and celebrates her birthday on November 20th every year.
Moonchild Sanelly Daughters
She has three daughters who stay at Port Elizabeth. They all stay with their father's grandmother and one of them, Artemis is a musician. Artemis took after her mother and she is set to release her EP.
Net Worth
Since coming into the limelight years ago, Moonchild Sanelly has made quite a fortune from her music. Her net worth currently stands at $700,000.
Songs
She has released over 15 songs and has worked with different artists. Moonchild Sanelly currently has one album and one EP (2019).
Rabulapha!
Dance like a girl
Ma Kiss & Pop
Twitter (feat. Toya Delazy)
Cut the Cake (feat Maramza)
Red Eye
Mali
Rabubi
Isduda
Don't Believe the Hype
Bounca Boy
Ndota Nbambe
Gqom Wave
Midnight Starring
Makhe
Oncamnce
Angeke
Punisha
Naja
Goosheshe
Probleme
Thirsty
Dla'l Isgubhu
Inyakanyaka
Tholukuthi Hey
Singles
Weh Mameh – 2018
F-Boyz – 2017
Guestlist – 2016
Buthi Madlisa – 2016
Down Low – 2018
Fox with That – 2016
Okabani – 2016
Skweez – African Icon Vol 1
Twitter
Instagram
Moonchild has a very active Instagram account and you could follow her to see what she is up to. Her Instagram handle is @moonchildsanelly
Advertisements
View this post on Instagram
Video
Advertisements