Nomvula Mokonyane who goes by the full name Nomvula Paula Mokonyane was born on 28th June 1963 in Kagiso, South Africa. She is a South African politician, former Premier of Gauteng Province and the Minister of Communications since 2018.
Nomvula previously served as Minister in the Department of Water and Sanitation of South Africa from May 25, 2014, to January 2018.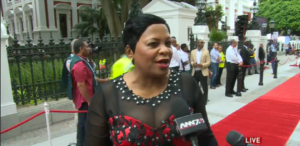 Nomvula Mokonyane Age
She was born on the 28th of June 1963 in Kagiso, South Africa. As of 2018, she is 55 years old
Nomvula Mokonyane Husband
She is married to Serge Mokonyane.
Nomvula Mokonyane Contact Details
EMAIL: [email protected]
PHONE: 082 937 1598, 012 473 0442
Nomvula Mokonyane Education
Nomvula Mokonyane matriculated at Masupatsela High School, Kagiso.
She Received training in Local Government, Planning Management, and Community Development in Sweden.
She Completed a Certificate Course in Emerging Economics from Wharton Business School at Pensylvania University.
She has a Certificate in Economics and Finance from Harvard Business School and a leadership and governance certificate.
She also has a Certificate in Project Planning.
Nomvula Mokonyane Political Career
Her political career began in the early 1980s as a student activist. She was a founder member of the Congress of South African Students (Cosas) and a member of the Young Christian Students (YCS).
She was the publicity secretary of the Krugersdorp branch of the United Democratic Front and an organizer of the Federation of Transvaal Women (Fedtaw), an organization that supported the families of detainees and the youth in their fight for democratic student representative councils.
In 1990 after the unbanning of political organizations she was involved in the re-establishment of the ANC and SACP structures.
As from 1994, she served in the Gauteng Legislature in various portfolio committees before she was appointed MEC of Agriculture, Conservation and Environment in 1996.
In 1999 she became the MEC for Safety and Liason until 2004 when she was appointed Housing MEC a position she held until 2009.
She is a member of the National Executive Committee (NEC) of the African National Congress elected at the 52nd national conference in 2007 in Polokwane.
On May 6, 2009, she was sworn in as Premier of Gauteng becoming the first female premier.
On May 25, 2014, she was appointed Minister of Water Affairs and Sanitation, a new Ministry created to combat water issues and serious sanitation problems across the country.
On November 22, 2018, she was appointed the minister of Environmental Affairs, a Ministry that was previously held by the late Edna Molwena.
Nomvula Mokonyane Membership
1994- 1994: National Co-ordinator for the ANCWL
1996- 1999: Member of the Gauteng Executive Council for Agriculture,
Conservation and Environment
1999- 2004: Member of the Gauteng Executive Council for Safety and Liaison.
2004- 2009: Member of the Gauteng Executive Council MEC for Housing
Nomvula Mokonyane Twitter
Nomvula Mokonyane News
Mama Nomvula will still be close to the Action as chair of chairs
Source: News24.com
While the ANC's announcement that Nomvula Mokonyane will take the position of chair of chairs in Parliament is a clear-cut indication that she will not make it into President Cyril Ramaphosa's cabinet, it does not mean she will be out of the sphere of influence.
The chair of chairs is a mostly behind the scenes, but highly influential position. The position is also called house chairperson for committees. The position was held by Cedric Frolick in the fifth Parliament.
On Monday, after the ANC NEC meeting in Cape Town, Secretary-General Ace Magashule announced that Mokonyane, currently Environmental Affairs Minister, will be the governing party's chair of chairs in the sixth Parliament, which will be established on Wednesday.
The ability of the chair of chairs to influence proceedings is best illustrated by the probes into state capture that four portfolio committees – that of Home Affairs, State Enterprises, Transport, and Mineral Resources – undertook. It was Frolick, in his capacity as chair of chairs, who instructed the committees to undertake these probes.
The chair of chairs is also the person who must give portfolio committees permission to close their meetings to the public.
Mokonyane – popularly known as "Mama Action" – previously served as minister of water and sanitation. Last year, Parliament's public finance watchdog committee, the Standing Committee on Public Accounts (Scopa), instituted an investigation into the department's affairs during Mokonyane's tenure as its political head.
The committee also called for a criminal investigation into Mokonyane's former ministry. Former Scopa chairperson Themba Godi said in February 2018 the Department of Water and Sanitation suffered a complete collapse under Mokonyane. Godi will not return to Parliament as his party, APC, did not garner enough votes to retain his seat.
A matter that will surely land before several portfolio committees during this parliamentary term, is the allegations of state capture by facilities management company African Global Operations, better known as Bosasa. Mokonyane, and Frolick, were implicated in the explosive testimony of the company's former COO Angelo Agrizzi before the Zondo commission of inquiry into state capture.
According to Aggrizzi, Mokonyane received gifts including meat and alcohol for family functions, as well as cash in parcels of R50 000.
Mokonyane has denied any wrongdoing.
In February 2018 Mokonyane was moved from the water and sanitation portfolio to the communications portfolio, and in November 2018 moved to her current portfolio of environmental affairs.