In his autobiography, Nelson Mandela stated that 'no individual can completely comprehend a nation until he has been inside its prisons.' As a society, we're all reflected in the prisons we've built. A trained eye can learn everything he needs to know about a country's current state of affairs with a single look inside a prison cell. 
When you observe a jail, you see all the societal issues at work: social justice, inequality, economic disparity, and other such crimes against humanity are the virus that causes crime. 
Prisons are an inevitable byproduct of criminal activity. Prisons are the inevitable response of society to crime. Simply said, they're rounded up and placed in the madhouse where they're compared to birds of the same feathers.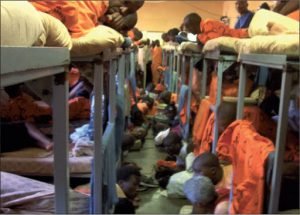 The Mangaung Prison (G4S Correction Services (BFN) (Pty) Ltd)
Located in Bloemfontein, South Africa, the Mangaung Prison is a privately run correctional facility. A consortium led by the British security firm G4S oversees the prison's operations. The South African Department of Correctional Services has awarded GS4 a 25-year contract to run the prison.
In 2000, the agreement was signed. The Mangaung Prison has the capacity to house roughly 2,000 inmates, however it is rarely used to its full potential. 
Kutama Sinthumule Correctional Centre (KSCC)
This prison is privately run and located in Louis Trichardt, South Africa, at Sparrow Road, 0920. GEOgroup, an American security firm, oversees the prison's operations. 
You can get in touch with the facility's management by using the following phone number: Phone: +27 15 519 4500. 
There are 3,024 inmates incarcerated here. The Kutama Sinthumule prison in Limpopo, South Africa, went on the rampage in 2013. At the time of their strike, they claimed that jail guards left them in their cells to starve. 
A total of 330 members of the Police and Prisons Civil Rights Union were fired after investigations into this and other prison-related misconduct.