The gang culture in South Africa has gotten so bad that it seems the government just picks gangs from the street and sends them to the prison system, making us have an overcrowded and poor prison system.
From the Pollsmoor Prison to the Sun city jail here are the Top 10 most dangerous prisons in South africa.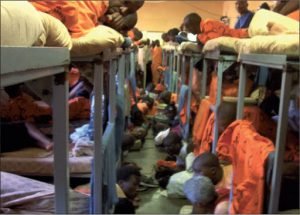 1. Pollsmoor Prison
Ranked as one of the most dangerous and brutal prisons, the Pollsmoor has a lot of history down its sleeves, The overcrowded facility located in the town of Tokia. Is said to only accommodate only 3900 inmates now accommodates three times the original number.
The Prison is filled with gangsters who now use brutality to run the Prisons ranging from the 26th down to the 28th.
2. Johannesburg Prison a.k.a the Sun city Jail
This prison is notable for holding 500 inmates serving over 10 years or life and has a record of strict brutality as most raids have found out that a lot of weapons are seen on inmates including axes. Currently the Prison facility holds over 3,000 inmates.
3. Leeuwkop Prison
Been in the news recently after a Female Prison Warden was found dead, this prison is a Special Maximum prison that houses inmates who are deemed not only dangerous to the society but also to other inmates.
They are locked in solitary confinement for 23hours a day, and guards us protective metals to move them around including electric shields.
4. The Mangaung Prison
This prison is located in Bloemfontein Free State, currently privately managed by GS4 under a contract signed in 2000. This prison is known for it;s under staff problems and high brutality by prison officials. In 2013 a female warden was held hostage but was later freed by a special task force.
5. Helderstroom Prison
This is another Maximum Security Prison located 120km away from Cape Town in South Africa. The conditions in this prison is so tough it's said that inmates are resorting to committing to suicide because of the harsh conditions.
6. Kokstad Prison
A.k.a. eBongweni C-Max is known as one of the most secure prisons in the southern hemisphere, it has housed notorious criminals such as Ananias Mathe and the Western Cape Gang Leader George. History has it that nobody has ever escaped the prison.
7. Matatshe Prison
This is another maxic security prison located at the town of Thohoyandou in SOuth Africa and it houses both those who are sentenced and also those awaiting trials, it hold offenders who are being charged for murder and drug related offences.
The gang culture is not as strong as Pollsmoor prison due to this prison being relatively newer. In 2017 there was an incident of fire that burnt two inmates to death and according to investigations it was found out that the fire was started by one of the inmates awaiting trials.
8. Modderbee Prison
This is another notorious and dangerous correctional facility, there have been a lot of riots and breakouts back to back during the last few years, Prisoners are said to have cell phones and weapons here.
Also a lot of family members of these prisoners have complained of the harsh conditions over the prisoners and their inability to visit their loved ones in prison. Recently due to the COVID outbreak there have been three recorded deaths in this prison facility.
9. Maximum Security Prison, Robben Island
Robben Island, Cape Town although not presently in use but this prison also holds it's record and history for brutality and it's one of the Legendary Maximum security prison in south africa.
It was where the popular Nelson Mandela was incarcerated for 18 years. Although the facility is not in use, it is well maintained as it is now a historical attraction.
10. Pretoria Central Prison
A.k.a Kgosi Mampuru II Correctional Services, located in Central Pretoria it's one of the largest correctional facilities and it is managed by the South African Department of Correctional Services.
This prison is notoriously known to have one of the brutal C- Max sections. Some notable records of escape in this prison was in 1979 by white political prisoners and most recent one in 2006 by Ananias Mathe who became the first person to escape the C-max section and he was recaptured after two weeks.