Advertisements
The Estate is a game-changing gripping premium daily drama that probes the hot topical issues on every South African's lip.
Premiere episodes of The Estate air on S3 from Mondays to Fridays at 19h00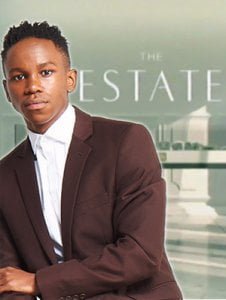 Monday 1 May 2023
Episode 191
Jo is devastated by a new revelation that puts her marriage at stake. Khulekani sends Lwandle a gift and Ntate Phasha gets disappointing news.
Advertisements
Tuesday 2 May 2023
Episode 192
Lwandle makes a life-changing decision while MaDlamini gets herself a spy in Echelon. Sindi gets a new business partner.
Wednesday 3 May 2023
Episode 193
Martin is in hot water. Kganya and Ntate Phasha lock heads and MaDlamini springs a surprise on Khulekani.
Thursday 4 May 2023
Episode 194
Khulekani makes a radical decision that shocks Lwandle. Jo and Martin's relationship reaches breaking point.
Friday 5 May 2023
Episode 195
Lwandle confronts Castro for exposing her secret, Sindi experiences setbacks at her event and Jo decides to come clean.
Monday 8 May 2023
Episode 196
Jo receives support from an unlikely source, Sindi plays hot and cold with her new partner and Tsholo is determined to spice up the podcast.
Tuesday 9 May 2023
Episode 197
Ntate Phasha suffers a traumatic flashback, Khulekani delivers news that puts Lesiba on edge and Sindi hires someone questionable.
Wednesday 10 May 2023
Episode 198
Lwandle drops a bombshell on Khulekani, Jo declares war on Castro and Sindi struggles with her mother's life decisions.
Thursday 11 May 2023
Episode 199
Castro offers S'khumbuzo an alliance and things turn sour between Martin and Jo. Sindi can't let go of Lwandle's sins.
Friday 12 May 2023
Episode 200
Jo makes a decision about her marriage. Sindi decides that it's time to cut the cord and Kubheka testifies.
Monday 15 May 2023
Episode 201
Advertisements
Lwandle is confronted with the reality of her decisions and Jo risks it all on the stand. Something is amiss at Yeyeye lounge.
Tuesday 16 May 2023
Episode 202
Castro tempts S'khumbuzo with an offer. Jo puts Martin on a tight budget and Tsholo risks it all for her podcast.
Wednessday 17 May 2023
Episode 203
S'khumbuzo's legacy haunts him, Lwandle struggles to keep the lights on and Martin struggles with his new relationship dynamic.
Thursday 18 May 2023
Episode 204
A dark cloud returns to the Estate. Khulekani pleads his case to the TLA. MaDlamini finds out some damning information about Lwandle.
Friday 19 May 2023
Episode 205
Castro struggles to keep old secrets at bay. S'khumbuzo and Tsholofelo's relationship deepens and Khulekani is confronted by MaDlamini.
Monday 22 May 2023
Episode 206
Castro interferes in Lwandle and Khulekani's affairs. Tsholofelo gets an unexpected visitor at the coffee shop.
Tuesday 23 May 2023
Episode 207
Khulekani is strained by Lwandle's past actions. Sindi is drawn into familial squabbles. Castro is forced to be a pawn in an old friend's game.
Wednesday 24 May 2023
Episode 208
The Nzimande household experiences some turbulence, Martin and Jo deal with trust issues and S'khumbuzo fights for his father's legacy.
Thursday 25 May 2023
Episode 209
Khulekani implores the community to take on a significant risk and potential sacrifice. Tsholofelo faces the decision of whether or not to share her past with S'khumbuzo.
Friday 26 May 2023
Episode 210
Castro learns of his adversaries' plan. Lesiba leads a delegation. A ghost from Sindi's past returns.
Monday 29 May 2023
Episode 211
Skhumbuzo is unsettled after learning of Tsholofelo's past. Sindi deals with the after effects of an unnerving dream, Khulekani receives a cryptic package.
Tuesday 30 May 2023
Episode 212
Sindi deals with a shocking incident at Yeyeye, an emergency visit is made to the hospital and Karabelo is sent on a mission.
Wednesday 31 May 2023
Episode 213
Lwandle and MaDlamini turn on one another, an arrest catches Sindi off-guard and Kulekani makes a big declaration of love.
Advertisements