The Red Room is a Turkish series that revolves around a psychological clinic and the stories and behaviors of a group of psychiatric patients who visit it, and who have experienced a variety of incidents ranging from suffering to joy, as told by one of the clinic's therapists who supervises their follow-up and attempts to cure them.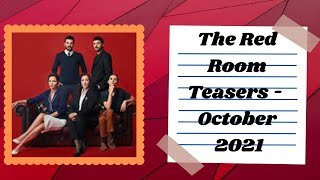 Monday 4 October 2021
Episode 67
Boncuk is mad at Sadik because of the way he treated the wise men. Boncuk is left alone in a country without any knowledge of the language. It is obvious that Boncuk is just an object for Sadik. She just cooks and does nothing. Boncuk is overwhelmed because of the loneliness.
Tuesday 5 October 2021
Episode 68
Boncuk and the Doctor meet in the red room once again. As Boncuk delves into the depths of her own memories, what she had to witness in her childhood, and how she couldn't tell anyone about how she felt, the Doctor realizes there is more to talk about and invites Boncuk once more.
The wise old men accompany her in her healing journey. The deep scars in her childhood don't seem to heal yet, but Sadik tries to be there for her even though he doesn't understand.
Wednesday 6 October 2021
Episode 69
Ayse tries to hide her interest towards Deniz, but he is aware of the situation. Even though Piraye hesitates for a moment, she accepts Deniz's invitation which makes him happy. Hediye is not able to accept that her mother is dead. We see the complicated relationship of Hediye and Neriman.
Thursday 7 October 2021
Episode 70
Hediye talks with Doctor Piraye about how she got to spend more time with Cihan and Çiçek. Although she is freed partially from the chains that are holding her back from enjoying her life, Hediye confesses she has one more step to take before her problems are resolved.
Selvi, with great enthusiasm, tells the Doctor how she managed to take a step outside do the balcony, yet now they have to talk about even more bitter memories haunting Selvi. Selvi tells how she mourned after losing her son, and the Doctor listens carefully as Selvi explains.
Friday 8 October 2021
Episode 71 
Selvi tells about the day she saw her mother after years. She feels guilty since she couldn't host her mother because of Riza. At the end of the session, she suddenly stands up determinedly and goes to the door. She opens it and takes a step outside and inhales like she is taking revenge.
---
Monday 11 October 2021
Episode 72
Mert and the Doctor start with their plan. The Doctor visits Selvi's house, surprising her, as Mert visits Selvi to encourage her in secret. Selvi understands their plans even though Mert tries to hide it, but there is more than a mere visit ahead.
Selvi holds onto the Doctor as she leaves her house for the first time after 35 years, and the Doctor manages to distract her from her fears as they walk. Selvi is overjoyed with this miraculous step, and we learn how Riza fell from his throne with an unexpected situation.
Tuesday 12 October 2021
Episode 73
Dr. Manolya continues being Selvi's guest. As she is talking we see that she feels guilty for her mother's end. She also thinks that it is too late for her to catch up with life. Doctor encourages her that it is still not too late and she can experience many things.
Esra is having her session with Dr. Deniz after the bad week she had. She has had a nervous breakdown after arguing with her classmates and cut her hair. She wants to be understood.
Wednesday 13 October 2021
Episode 74
Esra's session continues. She mentions her parents got divorced because of her. She blames herself. Dr. Deniz convinces her that she wasn't the reason of her parents' divorce. She feels relieved as she is sharing her thoughts she hadn't told to anybody till she met Dr. Deniz.
Doctor Manolya keeps giving therapy to Boncuk. Boncuk tells the doctor that the wise men will give her in marriage very soon and she should be aware of the signs.
Thursday 14 October 2021
Episode 75
Dr. Manolya catches some clues about Boncuk's past. She is unwilling to tell of them but we see that she had a tragic childhood in her parent's house. She tells the doctor that she won't be able to come again to the clinic and leaves. We'll see what will happen in her life…
Friday 15 October 2021
Episode 76
Selvi is full of emotions, and she looks like she cried. Mert takes Selvi for a small walk. When she realizes what she can achieve, her confidence can be evidently seen. We see that she even went for a walk alone. She goes to her old friend Aylin, and they catch up.
Mert is the biggest supporter of Selvi as he is there for his mother in every step of the way. Selvi can go out without any restrictions, and she wishes to go to her sons' school to connect with her children's past.
---
Monday 18 October 2021
Episode 77
Selvi has overcome her fear of going out. She visits all the places she had wanted to see in the years she couldn't get out. Finally she goes to Yigit's grave but it makes her lose her emotional strength. But Dr. Manolya is sure that Selvi will pull herself together.
Hediye finally visits her birth mother Hikmet. She intented to confront with Hikmet but when Hikmet tells her of the reason why they gave Hediye away, she softens up.
Tuesday 19 October 2021
Episode 78
After her great improvement, Hediye faces a sudden and important interruption to her journey towards being a free person. She ends up giving up all her dreams to taking care of Hikmet, and Doctor Piraye cannot understand why she does that by choice now.
Piraye consults the Doctor and ends up resolving the ongoing issue between Deniz and her. Boncuk brings the Doctor the news of a new era in her search for a suitable match, and the Doctor carefully listens to her, as we witness the painful misery Boncuk and those around her go through.
Wednesday 20 October 2021
Episode 79
Boncuk gets lost in her head as reality and imagination mix in together. The world was already too big for her, but her inner world also expands. The Doctor tries to reach in and help her out as Boncuk climbs out from the cliff where her family and friends pushed her off from.
Thursday 21 October 2021
Episode 80
After Dr, Manolya's touch to Selvi's life, Selvi has overcome all her fears. She comes to the clinic for the first time and tells the doctor about her future. The step she takes outside is the step she takes to her new life.
Friday 22 October 2021
Episode 81
Doctor Ayse has decided to leave her job at the clinic after she saw Deniz and Piraye kissing. She tells her decision to Dr. Manolya. The doctor understands that there is something wrong with Ayse. She wants to gain time in order to convince Ayse to not leave her job and asks her to work there one more month.
Boncuk comes for her session. She has been having less hallucinations due to her medicines, but she seems to be unhappy because of that.
---
Monday 25 October 2021
Episode 82
Dr. Manolya can't stop her tears after hearing what Boncuk experienced in her childhood however they've made a progress with her treatment. Her husband is a nice man and loves Boncuk but he doesn't know how to show his feelings. Dr. Manolya gives him some advice.
Fahri and Kumru are married for 7 seven years and have a daughter. Their happy marriage changes after Kumru attacked a man with a knife.
Tuesday 26 October 2021
Episode 83
Kumru is a young woman who tried to kill a man in a restaurant. Kumru looks emotionally and physically unstable as she starts to hit herself from time to time. We see that she has been through a lot. She runs away with her boyfriend, Yavuz, however, he is a liar who manipulates Kumru.
When they move to Istandbul, Kumru imagines a different world where they will be happy but the opposite happens. Yavuz's cousin, Metin tries to rape Kumru but Yavuz saves her.
Wednesday 27 October 2021
Episode 84
Boncuk looks worried as she searches for the wise man. She thinks that one of them left her. Boncuk talks about Can and their meeting. Her joy and happiness can be seen in her eyes when she talks about Can. She tells Doctor that Can visited her in Istandbul but she couldn't meet him as her sister locked the door.
We see the trauma behind her fear. Kenan locked up Boncuk and her sister and did not let them go. They had to listen their mother's sufferings.
Thursday 28 October 2021
Episode 85
We see the damage Kenan did when Boncuk was just a little girl. She is confused and cannot recognize what is real and what is not. Doctor advices Sadik to take care of Boncuk carefully. Piraye and Deniz argue as he wants to tell Doctor about their relationship.
Piraye wonders what made Ayse leave the office. Doctor wants to learn Ayse's past. We see that Ayse had a difficult childhood since her father had alcohol problems. It is obvious that these occasions made a huge impact on her life.
Friday 29 October 2021
Episode 86
Ayse's alcoholic father wounds the memories of her childhood. As she tells the Doctor about her past, we witness how bad things kept happening to her as her family broke. Kumru on the other hand, takes a step back from the cliff of darkness thanks to her daughter, but the ground she stands on is still not safe.