Angus Buchan (born 5 August 1947) is a Christian Author, and Evangelist born in Bulawayo, Southern Rhodesia (now Zimbabwe) and based in South Africa.
The Buchans in 1980 started Shalom Ministries to preach in his local community with its main purpose later becoming to go out to preach around Africa.
In this post, we take a look at the life of Angus Buchan and many other interesting things about this popular evangelist.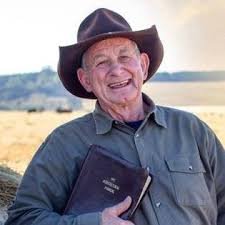 Angus Buchan Age
He was born on the 5th of August 1947 in Bulawayo, Southern Rhodesia (now Zimbabwe). As of 2019, he is 72 years old.
Angus Buchan Wife
He is married to Jill Buchan and together they have 5 children named Andrew, Lindi, Robyn, Fergus and Jilly.
Criticisms
His teachings reinforce male relational power and present a "soft patriarchy", with men assuming leadership roles that demand submission and obedience from women.
His teachings fail to address the key issue of political or economic reconciliation between black and white South Africans. The fact that his followers are mostly white has been suggested to be a response to the fear of black leadership and the diminishing white control of political and economic power.
He has made unsubstantiated claims of healing the sick at his services.
In 2010, Bruce Winship, a Durban businessman and a trustee of Shalom Ministries was quoted as saying: "Not one cent goes to Angus. He lives in the same wattle and daub house that he built on his farm. He drives the same old car. He doesn't even have medical aid". However, in 2014, Winship's relationship with Shalom Ministries came under press scrutiny, with reports revealing that Winship's companies routinely withheld payments with a total of 30,000,000 rand from smaller construction contractors. In response, the Shalom Trust established a 12,000,000 rand fund to pay Winship's creditors.
Buchan's conservative views on topics such as homosexuality and female equality led to a local council in Scotland banning him from preaching in council-owned property in 2016. A representative of the Scottish Borders LGBT Equality Association said, "Buchan's views that LGBTI people are diseased and can be cured, and that men should dominate women and physically punish children in the family unit are extremely damaging. In my view, this crosses the line between freedom of speech and hate speech"
Twitter
Angus Buchan News
Angus Buchan apologises for saying only 'Jewish and Afrikaans people' have 'covenant with God'
Source: News24.com
Evangelist Pastor Angus Buchan has apologised to the nation for his remarks, captured in an audio recording, that only Jewish and Afrikaans people shared a covenant with God.
"I would like to apologise and clear up any misunderstanding that I might have made with my statement that went out recently," he said in another statement on Facebook.
This comes after EFF deputy president Floyd Shivambu posted a video clip to Twitter of Buchan convening a prayer meeting called "Staan op vir Jesus" (stand up for Jesus).
In the clip, which is audio edited with photo of Buchan, the pastor says the "emphasis" of this particular meeting would be "on the Afrikaner nation".
Buchan further states:
"Everybody is welcome as always to our meetings but this time the emphasis will be on the Afrikaner nation, we are going to call out to God remembering that only two nations in the world have ever been in covenant with the God of Abraham, Isaac and Jacob. They are the Jewish people and the Afrikaans people, that is fact.
"We are going to call a meeting in Pretoria, booked a stadium on the 1st of February 2020. You really need to start praying towards that now, we don't have much time, we are praying for a change.
God will use that meeting to bring the sacredness of the bible and its principles back to South Africa, where people will understand that the word of God is literal from Genesis to Revelations.
Iit is not a general guideline and all the principles in the bible must be adhered to if this country is going to prosper and it is going to prosper because we are going to repent as a nation.
"We will be inviting all the heads of state, they will be there. We are believing for God to intervene, please send this message out everywhere."