Brian Molefe was a former business executive and politician in South Africa. He was the chief executive officer of Public Investment Corporation, Transnet, Eskom. As a politician, he was a member of Parliament for the ruling ANC. In late 2017, Molefe was briefly appointed as a military officer.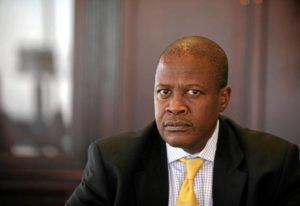 Brian Molefe Age
He was born in the year 1966 in Pretoria, South Africa. As of 2019, he is 53 years old.
Brian Molefe Wife
Brian Molefe is married to Arethur Moagi, they both got married in December 2016. Prior to that time, 1993 to be precise he was married to Portia Derby.
Brian Molefe Family
Brian parents are SP Molefe, and he has two children: Itumeleng Molefe, Ipeleng Molefe.
Brian Molefe Education
University of South Africa (South Africa) – Bachelor of Commerce
University of London (United Kingdom) – Postgraduate Diploma – Economics
University of South Africa (South Africa)- Masters – Business Leadership
Harvard Business School (Boston, United States of America – Completed 2006) – Advanced Management Program
Brian Molefe Career
Brian is a former business executive at several state-owned enterprises in South Africa. In 2003, he was appointed as the Chief Executive Officer of Public Investment Corporation.
He occupied this position till 2010. Between 2011 and 2016, he held a similar position at Transnet, and also at Eskom between 2015 and 2016. In January 2017 Molefe was sworn in as a member of Parliament. He resigned from the legislature in May 2017.
Brian Molefe Latest News
Source: Businesslive.co.za
Labor union Solidarity will be piling the pressure on disgraced former Eskom CEO Brian Molefe, who is now considering petitioning the Supreme Court of Appeal over his bid to be reinstated and to escape having to pay back the money he received as a parting gift.
Solidarity gave Molefe until Friday last week to repay the R11m he received in pension payments. This was after his bid in the High Court in Pretoria to appeal against an earlier judgment was dismissed with costs.
Anton van der Bijl, head of Solidarity's Centre for Fair Labour Practices, told Business Day on Monday that Molefe had not adhered to their demand. Molefe's legal team had only replied in an e-mail stating they would take instructions from him on the matter and get back to the union.
But according to Van der Bijl, there has not been any further correspondence.
Molefe had sought to have the high court overturn a January ruling by a full bench that ordered him to repay R11m in pension payments unlawfully paid to him by the Eskom Pension Fund.
The court in January had described the R30m "early retirement" deal between Eskom and Molefe as a "deliberate scheme" concocted after he resigned from the utility in 2016.
The court ruled that Molefe was not entitled to the benefits as he had been employed by Eskom for only 18 months. Molefe had also sought to challenge the ruling that he had indeed resigned from Eskom and that his reinstatement was unlawful.
Van der Bijl said Solidarity would now be following a two-pronged approach, which included possibly bringing an application for Molefe being in contempt of court.
It would also put pressure on the Eskom Pension Fund, which would have to be paid back, to enforce the order made in January against Molefe.
The court had also ruled that Molefe had to pay back in 10 days the R11m he had already received as part of the disputed pension payout.
Molefe's lawyer, Barry Farber, said they were considering petitioning the Supreme Court of Appeal after losing the appeal. "We will know in the next couple of days," Farber said.
Molefe resigned from Eskom after being implicated in state capture by then public protector Thuli Madonsela. After a short stint in Parliament, he was reinstated at Eskom.
Brian Molefe Profile
Full Name: Brian Molefe
Date of Birth: 1966
Wife: Arethur Moagi
Occupation: Military Officer
References
Businesslive.co.za