Lindiwe Zulu whose full name is Lindiwe Daphney Zulu is a South African politician and the minister of Small Business Development. She was born on 21st April 1958 in Mpumalanga, South Africa.
She was a student of St Theresa's and Mjingo schools after which she attended the Swaziland Cooperative Development College in Ezulwini. Lindiwe then joined the African National Congress( ANC) and later moved away to Mozambique.
She attended the Solomon Mahlangu Freedom College, SOMAFCO, in Mazimbu, Tanzania. After she got a scholarship to study journalism in the USSR, she bagged a master's degree in Journalism. In 1987, she went to Angola for full military training with the Pan Africanist Women's Organisation.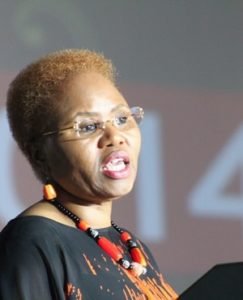 Lindiwe Zulu Age
She was born on the 21st of April 1958 in Mpumalanga, South Africa. As of 2019, she is 61 years old.
Lindiwe Zulu Husband
She is currently married to Kgosietsile Itholeng.
Lindiwe Zulu Children
Together with her husband, she has four children two daughters Nokuthula and Phindile and two sons Sipho and Boitumelo.
Lindiwe Zulu Political Career
She joined the African National Congress and went into exile in Mozambique. In 1992 she returned to South Africa and become head of communications in the ANC Women's League.
In 1993 he became an executive committee member and was seconded to the ANC's department of information and publicity as the spokesperson for the elections.
In 1994 she joined the Gauteng Provincial Legislature and was appointed Deputy Speaker in 1995.
From 1999 to 2011 she held the position of a special advisor to the Minister of Foreign Affairs.
From 2001 to 2003 he was Chief Director for western and central Africa in the Department of Foreign Affairs.
In 2004 she was posted to Brazil as South African Ambassador for four and a half years.
Since 2009 she has been an ANC Member of Parliament and in 2013 she was appointed to the National Working Committee of the ANC. In 2014 she became the Minister of Small Business Development.
Lindiwe Zulu Contact Details
EMAIL: [email protected], [email protected]
PHONE: 012 394 1006
FAX: 012 394 1813
Her email address is; [email protected]
Lindiwe Zulu Twitter