Advertisements
Mamphela Ramphele (born 28 December 1947) is a South African business woman, medical doctor, anti-apartheid activist, global public servant and political thinker.  She is one of the richest women in South Africa.
Ramphele was, at a time, the Managing Director at World Bank and has served as the Vice-Chancellor at the University of Cape Town.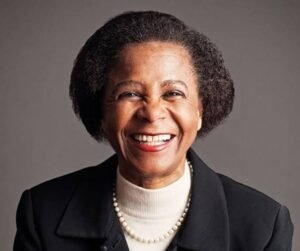 Mamphela Ramphele Age
She was born on 28 December 1947 in Bochum District, Transvaal, South Africa. Ramphele is 75 years old as of 2022 and celebrates her birthday on December 28th every year.
Mamphela Ramphele Education
She attended G. H. Frantz Secondary School, Bethesda Normal School and Setotolwane High School. In 1966, she matriculated from Setotolwane High School and went on for pre-medical courses at the University of the North.
Ramphele holds a Bachelor of Medicine, Bachelor of Surgery from the University of Natal Medical School, a BComm in Administration from the University of South Africa and diplomas in tropical health & hygiene and Public Health from the University of the Witwatersrand.
She also has a PhD in Social Anthropology from the University of Cape Town.
Awards and Honorary Degrees
Honorary Doctorate at the International Institute of Social Studies, The Hague, The Netherlands, in 1997.
Honorary Doctor of Law from the University of Cambridge in 2001.
Honorary Doctorate in Humane Letters from Hunter College of the City University of New York in 1984.
Honorary Doctor of Science degree from Tufts University in May 1991.
Honorary Doctorate in Medicine from the University of Natal.
Medal of Distinction from Barnard College in the United States.
Ramphele is also a former fellow of the Bunting Institute and was elected as an honorary member of the Alpha and Iota chapters of Phi Beta Kappa at Radcliffe and Harvard Colleges.
Honorary Doctorate of Humane Letters degree from New York University in May 2007.
Admitted to the Order of Simon of Cyrene in 2010.
Officer of the Legion of Honour, the highest decoration in France.
Lifetime Achiever Award from the National Research Foundation in 2007.
Mamphela Ramphele Partner
Ramphele had an affair with Steve Biko and had a son for him. Biko died in 1977 aged 30years.
Advertisements
Ramphele's son is Hlumelo Biko.
Mamphela Ramphele Career
In 1986, Ramphele became a research fellow at the University of Cape Town, and in 1991, she was named one of the university's Deputy Vice-Chancellors. In September 1996, she was appointed Vice-Chancellor of the university, making her the first black woman in South Africa to hold such a position.
Ramphele was named as one of the World Bank's four Managing Directors in 2000. She was in charge of the World Bank Institute's strategic positioning and activities, as well as the Vice-Presidency of External Affairs. She was the first black woman to hold this position in South Africa.
She is the founder of Agang South Africa, a political party in South Africa. She formed the party in February 2013, she however withdrew from politics in July 2014.
Mamphela Ramphele Net Worth
Ramphele has an estimated net worth of R65 million which she has earned from her successful career.
Twitter
Advertisements