Advertisements
Mandisi Arnold Shindo (born 1989) also known as , stage name Dr Disi is a South African actor, writer, director, voice and dance performer, and the founder of the Iselwa Lesizwe Theatre Company.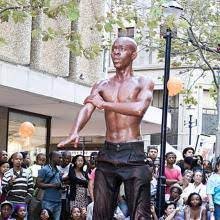 Career
He began pursuing his passion for theatre when he was 11 years old in primary school, and he has committed his life to the arts and to assisting young people in obtaining the skills necessary for a tertiary degree since then.
Advertisements
He sees theatrical instruction as "(his) calling and weapon to teach those who are not receiving traditional classroom instruction."
Performances
Macbeki by Pieter Dick Uys, dir by Chris Weare Uct Little Theatre and India
Burnt By Ina and Ian Bruce
Home Brew By Sabata Sesiu
Opera 5:20 by Geoff Hyland Baxter 2010
Isivuno Sama Phupha by Mandla Mbothwe
The Lesson by Eugène Ionesco dir by Geoff Hyland performed: America Boston 2011
Bokumka Bonke By Cast Directed By Mandla Mbothwe
Living under pressure ( which he wrote, directed and performed)
Mandisi Arnold Shindo Net Worth
He has an estimated net worth of $200,000 which he has earned as an actor.
Advertisements