Mduduzi Manana was born on the 12th of February 1984 in Ermelo, South Africa. He is a South African politician and was the South African Deputy Minister of Higher Education and Training and member of parliament from 2009 to 2017.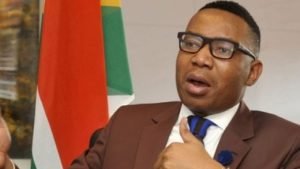 Mduduzi Manana Age
He was born on the 12th of February 1984 in Ermelo, South Africa. As of 2019, he is 35 years old.
Mduduzi Manana Wife
The information about his wife is not yet known and will be updated soon.
Mduduzi Manana Education
He obtained a BA degree in Political Science and Sociology from the University of Natal. BA (Honors) degree in International Politics from the University of South Africa (UNISA).
Mduduzi Manana Politics
1998: At the age of 14 years he became the Member of Congress of South African Students (COSAS)and the ANC Youth League (ANCYL)
2005: Branch Chairperson of the ANCYL and YCL respectively in the Nombali Mkhwanazi Branch.
2006: Regional Executive Committee (REC) of the ANCYL in the Gert Sibande Region.
2008: Member OF the National Executive Committee (NEC) of the ANCYL (serving in the finance sub-committee)
2009: Member of Parliament
2011: Whip of the Portfolio Committee on Transport and Public Service; Administration Portfolio Committee and Governance and Monitoring Cluster.
Mduduzi Manana Instagram
View this post on Instagram
Mduduzi Manana Twitter