Sello Chicco Twala (born 1 January 1963) is a South African musician and producer.  He has collaborated with many well-known artists in the music industry.
Some of his collaborations are with Nkosana Kodi and Brenda Fassie. He has also created some of South Africa's hit songs.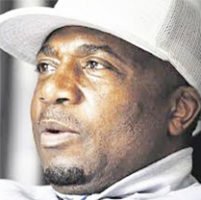 Sello Chicco Twala Age
He was born on the 1st of January 1963 in Soweto, Johannesburg, South Africa. As of 2020, he is 57 years old.
Net Worth
He has an estimated net worth of $1.2 Million.
Albums
We Don't Need War (2015)
Jimama Ji (2007)
Umagubane (2015)
Papa Stop The War (2015)
Mamatilda (2015)
Modjadji (2015
Best of (Limited Edition) (2006)
The Best Of (2007)
Songs
Papa stop the war
We Can Dance
Modjadji
I Need Some Money
Umagubane
Nomari
Catch That Man
Tribute to our heroes
We Miss You Mandela
Rachimo
Trouble in the night vigil
Hi Tshikeni
Mhane
Ibambeni
We Love You Teacher
Move over
We miss you Manelow
Sixolele Baba
We Don't Need War
Thank you my friends
Khoma Khoma
Chiccoman
Xibam Bam
Going To The Ghetto
I Need Some Action
Liyofika Ilanga
Xarila
Khetile Khetile
Thina Sizwe Esimnyama
Traditional Doctor
Bola Bopendza
Masadzi Wa Tshikuma