Somizi Mhlongo, popularly known as Somgaga, is a South African television presenter, radio personality, choreographer, actor, and singer. He is one of the notable and successful personalities in the South African entertainment industry.
Somgaga was the lead choreographer for the opening and closing ceremonies for the 2010 FIFA World Cup and 2013 Africa Cup of Nations. He is the host of the reality show "Living the Dream with Swomizi" which is a docu-series that gives a peek into his flamboyant lifestyle.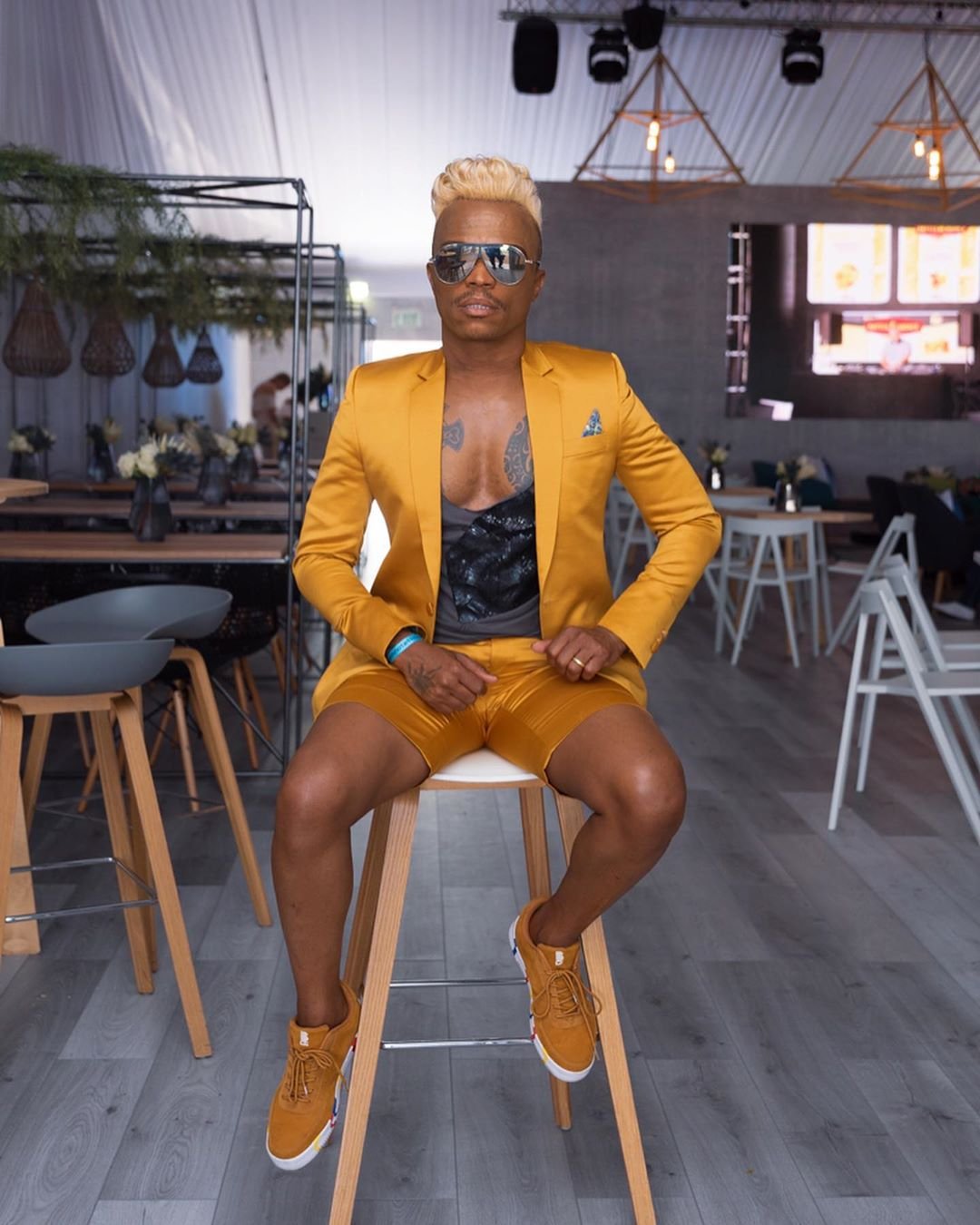 Somizi Mhlongo Age
He was born on the 23rd of December 1972 in Soweto, Gauteng, South Africa. Somgaga is 47 years old as of 2019.
Somizi Mhlongo Parents
He was born to Mary Twala and Ndaba Mhlongo. His mother is a veteran actress while his father was an actor and comedian.
Ndaba Mhlongo starred in many movies and theatre productions, including Bad Company and Strike Force. He was nominated for a Tony Award in 1988 for his choreography work on Sarafina!.
His mother was recently nominated for the Africa Movie Academy Award for Best Actress in a Supporting Role.
Somizi Mhlongo Early Life
He was exposed to the entertainment industry when he was still very young as his parents were already so much involved. He often traveled with his parents during their theatre tours. Somizi started acting from the age of 13.
Somizi Mhlongo Husband
He is married to Mohale Motaung. The two met at an event by Louis Vuitton and Moet & Chandon. According to Somgaga, they got engaged on the 'love lock' bridge in France close to the Eiffel Tower.
The couple had their traditional wedding on the 28th of September 2019 and the white wedding in January 2020. A third wedding which will air on Showmax is set to hold in July, on Mohale's birthday, in Italy.
Somizi Mhlongo Baby Mama
He was previously in a relationship with Palesa Madisakwane while he was also seeing an anonymous man. Then, he was "confused" about his sexuality and thought he was bisexual.
Before Madisakwane noticed they were expecting their first child named Bahumi, the couple split as Mhlongo realized he was, in fact, gay and not bisexual. The Idol SA judge told Palesa Madisakwane that he will forever be a father to their child. Despite the end of their relationship, he was excited to be a father.
Daughter
Somizi has a daughter named Bahumi with actress Palesa Madisakwane. Bahumi was born on the 9th of February 1995. She is 25 years old as of 2020.
Somizi Mhlongo Book
Dominoes: Unbreakable Spirit.
Somizi Mhlongo Net Worth
He has an estimated net worth of $5 million.
Somizi Mhlongo Films
Sarafina (1992)
Cry, the beloved Country (1995)
Scavengers (1987)
Ayeye (season 1) as Baps.
Somizi Mhlongo Television Roles
Head Judge of Dance Your Butt Off (season 1 & 2.)
Judge of Idols (season 11, 12 & 13).
The host of Living the Dream with Somizi (season 1 & 2)
The host of Reality Check (Season 2 & 4)
Red Carpet Host during the South African Film and Television Awards (season 10, 11,22 and 23)
The host of V-Entertainment (season 10)
Presenter of Zaziwa (season 1)
He was a commentator for 10 over 10 seasons 2 & 4.
The host of All That BS Season 1.
Somizi Mhlongo Instagram
Twitter