Advertisements
Thinah Zungu (born 1988 in Kwazulu Natal) is a South African gospel artist and SABC Crown Gospel Award winner.
He had his primary education at Othando Primary School and later attended Sthabile High School for his secondary education. Thinah had his matric in 2006 and began to focus on his music career.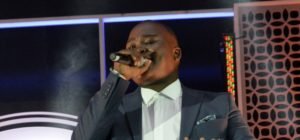 Thinah Zungu Age
He was born in 1988 in Kwazulu Natal, South Africa. As of 2021, he is 33 years old.
Thinah Zungu Wife
He is married to Zama Zungu and they are very happy together.
Advertisements
Albums
2016: The Living Testimony
2014: Nginguthandiwe
2011: Kwanqab'umusa
2009: Kuthe bekwazi
2007: Enkazimulweni
Thinah Zungu Songs
Umusa
Ekugcineni
Nginguthandiwe
Babusisiwe
Lapho Esho Khona
Fear Not
Ngiyabonga
Worship Medley
Kuzodlula
Ngimile
Favour By
Umoya Wami Uthi Yebo
Mayenzek'intando Yakho
Kuphelelisiwe Konke
Usengiphindile
Umphumela Womusa
Lisele Iodw'ithuna
Umbuzo
Ilizwa Lakho
Im Walking All Over
He Can Do It For You
Bua Lentswe Fela
Uyangazi
Sibuya Kude
Awards
2012: Best Gospel Song at the SABC Crown Gospel Awards with an album titled song Kwanqab'umusa.
2012: Best Songwriter at the SABC Crown Gospel Awards.
Net Worth
He has an estimated net worth of $100,000 which he has earned as a gospel artist.
Instagram
View this post on Instagram

Advertisements
Thinah Zungu Latest News
Gospel singer Thinah Zungu on his music: 'I write my own songs'
Source: Channel24.co.za
When award-winning gospel artist Thinah Zungu is on stage, you can be guaranteed that he will sing his prophetic song, Kwanqab'umusa (Mercy said no), because of it being a proclamation over his life.
He decided to step outside his comfort zone to record a live album at Soweto Theatre. The KwaZulu-Natal born artist was surprised to learn that Sowetans knew and loved every song of his. This experience was a reminder to him that sometimes one needs to step outside their comfort zone to really experience God's mercy.
COMFORT ZONE
There is a saying, "nothing grows in the comfort zone". This is exactly what Thinah has experienced. The 30-year-old is known for writing his own songs, predominately in his home language. In this live album simply titled, Thinah Zungu, there are songs in Sesotho, TshiVenda and English, showing off his versatility as an artist.
"I decided to use the other languages as a token of appreciation to the many people from different ethnic groups who have supported me all these years. We might speak different languages but serve the same God," says Thinah.
It has been a blessing for Thinah to touch the lives of people with his music, something he doesn't take for granted. "I never leave the stage without singing Kwanqab'umusa because it is a reflection of who I am and what God has done and keeps on doing in my life," he says.
LOVE AND APPRECIATION
He tells Move! that the love and appreciation he has received from people makes him want to be better at what he does. One of the things he is about is song writing. "I write my own songs because I feel it's God's way of speaking to His people," Thinah says. He has been welcomed by the gospel industry with open arms.
Even when naysayers tried to discourage him from going into singing in 2007, he trusted that the promises of God are 'yes' and 'amen'. "They said I would not last or make it, but God had other plans. Where would I be if I listened?" the father of three asks. His heart still bleeds for the late S'fiso Ncwane who gave him a chance when he started out.
TEACHINGS
There is a lot to be grateful for even when he faces challenges in the industry or personal life. Being raised in a Christian home back at Inanda, he says he finds himself always using how he was raised as reference. "How I was raised has a lot of impact and influence. I grew up in a home where going to church was not an option. That is why things like fame do not go to my head," he says.
Thinah says he has always trusted God with his life, adding that Romans 8:28 always assures him of this, "And we know that all things work together for good to those who love God, to those who are the called according to His purpose."
Advertisements