Born in Hebron, Graskop in Mpumalanga, South Africa, Africa Tsoai is a South African actor and voice-over artist popularly known for his acting role as John Maputla the husband of Meikie Maputla (Harriet Manamela) and father of Leeto (Eric Macheru) and Thabo Maputla (Thabo Mamabolo)in the soap, Skeem Saam.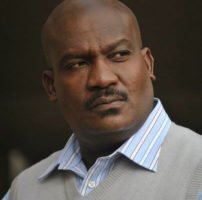 Africa Tsoai Age
He was born on the 4th of July 1967 in Hebron-Graskop in Mpumalanga, South Africa. As of 2019, he is 52 years old.
Africa Tsoai Wife
Yes, of course, he is married. However, information about his wife is unavailable. All we know for now is that Africa Tsoai has four children.
Africa Tsoai Education and Occupation
Africa Tosai is an actor, a voice-over artist, a producer, a businessman, a sound engineer, and translator. He attended Rudolph College in Johannesburg, where he studied graphic design.
A self-taught fine arts enthusiast who got his diploma in 1989 and later did a sound engineering course at In-house Records, Randburg in 2000. In 1996, Tsoai started his own small business.
Africa Tsoai Profile
BIRTH NAME: Africa Tsoai
DATE OF BIRTH: 04 July 1967
PLACE OF BIRTH: Hebron-Graskop, Mpumalanga
OCCUPATION: Actor