Jeff Radebe (Jeffrey Thamsanqa Radebe) is a South African politician and was appointed as Minister of Energy by Cyril Ramaphosa on 26 February 2018. He was born on 18th February 1953 in Cato Manor, South Africa and previously served as a Minister in the Presidency: Planning, Monitoring and Evaluation.
Jeff Radebe holds a B.Juris degree from the University of Zululand obtained in 1976; LLM in International Law from Leipzig University obtained in 1981 and studied at the Lenin International School, Moscow in 1985.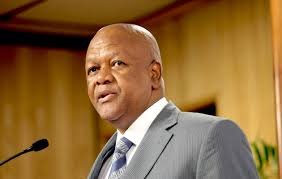 Jeff Radebe Age
He was born on the 18th of February 1953 in Cato Manor, South Africa. As of 2019, he is 66 years old.
Jeff Radebe Wife
He is married to Bridgette Radebe and together they have three children Mandisa Radebe, Vukani Radebe and Malaika Radebe.
Jeff Radebe Positions Held
Minister of Energy
Minister in the Presidency for Planning, Performance, Monitoring, Evaluation and Administration
Chairperson of the National Conventional Arms Control Committee
Member of the National Executive Committee (NEC) of the African National Congress (ANC) from 1991
Member of the National Working Committee (NWC) of the ANC since 1991
Member of the SACP Central Committee
Head of the ANC Policy Unit
Chairperson of the ANC National Disciplinary Committee
Chairperson of the ANC Drafting Committee
Chairperson of the ANC Political Committee
Jeff Radebe Awards & Honors
Mr Radebe received an honorary doctorate in Humane Letters by the Chicago State University in 1996, and Leucospermum flower named Radebe Sunrise was bestowed on him on 23 October 2005. He was awarded Honorary Colonel by the South African Air Force, Mobile Deployment Wing in 2006.
Jeff Radebe Contact Details
EMAIL
[email protected]
[email protected]
PHONE
083 327 1463
021 462 2301
012 406 7612
FAX
012 444 4505