Knowledge Katti (born 1973) is a multi millionaire from Namibia who derived his wealth from his career in television.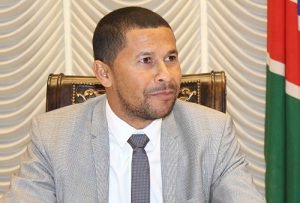 Knowledge Katti Age
He was born and bred at the harbour town Walvis Bay, Namibia's main port where he also attended completed high school. He was born in the year 1973.
Education
He earned a Bachelor of Commerce degree from the University of Namibia (UNAM) with majors in Economics, Accounting, and Auditing. He did his accounting articles at PricewaterhouseCoopers, a global accounting firm.
Career
Foundation
In 2008, he founded The Knowledge Foundations. The Foundations are three unique and separate entities that address three major areas of philanthropic giving. Every year, Open Minds focuses on education and finances ten (10) students for tertiary study.
Mr. Katti knows the struggle of young, industrious students who may be robbed of a postsecondary education due to a lack of financing because of his experience as an alumnus of the University of Namibia who was also in need of financial aid. Brick by Brick promotes community development and cohesiveness.
The Namibian Women's Federation received N$15,800 from the Foundation in 2011. Healing Hands is the newest addition to the Knowledge Foundations, with an emphasis on welfare and healthcare issues and causes.
Knowledge Katti Net Worth
He has an estimated net worth of $100 million which he has earned as a businessman.