Prince Kaybee whose full name is Kabelo Motsamai is a popular South African DJ and musician best known for his songs "Friend Zone", "Wajellwa," and "Yonkinto." He is the son of Mr Motsamai and he has 35 siblings. Mr Motsamai had 36 children and he was the youngest child and also the only child from his mother.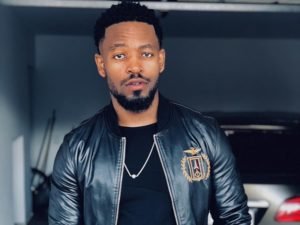 Prince Kaybee Age
He was born on the 15th of June 1989 in Senekal near Welkom in the Free State, South Africa. As of 2019, he is 30 years old.
Prince Kaybee Girlfriend | Prince Kaybee Wife
Prince Kaybee and Brown Mbombo are believed to be dating. They are currently back together and closer than ever before, but they insist they're in no hurry to tie the knot.
Prince Kaybee Songs
Angiyifuni Indoda
Baby Please
Better Days
Kao Rata
Nondaba
Story Teller
Yonkinto (feat. Zanda Zakuza)
Angiyifuni Indoda
Baby Please
Banomoya
Beautiful Girls
Beautiful Love
Better Days (feat. Audrey)
Better Days (Instrumental)
Bhiyoza
Charlotte
Charlotte – Intro Dub
Charlotte (feat. Lady Zamar)
Club Controller
Club Controller – Remix
Don't Give Up
Don't Give Up – Radio Remake
Don't Give Up – Remake
Friend Zone
Friend Zone (feat. Ziyon)
Give Me
Give Me (feat. Dr Malinga)
Kao Rata
Love Affair
Love Affair (feat. Thiwe & Usual Suspects)
Nondaba – Instrumental
Odd Moments
Shukuma
Shukuma (feat. Phindile)
Soul According To Drums – Main Mix
Soul Klap
Story Teller
Story Teller (feat. Zameka)
Wajellwa
Wajellwa – Guitar Mix
Wajellwa – Radio Edit
Wajellwa (feat. Shaun Dihoro) [Guitar Mix]
Wajellwa (feat. Shaun Dihoro) [Instrumental]
Wajellwa (Guitar Mix) (feat. Shaun Dihoro)
Yebo Yes
Yonkinto – Beautiful Girls Dub MixPrince Kaybee Facebook
Prince Kaybee Albums
I Am Music – 2017
Red Mic Xperience (Live In Carnival City) – 2017
Black And White 2.0 (DJ's Edition) – 2015
Better Days – 2015
Urban House Edition, Vol. 1 – 2016
Partylands: Electronica Vibe, Vol. 13 – 2014
Electro Elements: Spring, Vol. 4 – 2014
Undercover: Electro Imprints, Vol. 10 – 2014
Electro Elements: Summer, Vol. 11 – 2014
Electronica Confessions, Vol. 6 – 2014
Electro Sex Me, Vol. 2 – 2014
After Hours: Electro Tales, Vol. 7 – 2014
Bar St. Luna: Electronica Daze, Vol. 7 – 2014
Electro Elements: Winter, Vol. 7 – 2014
Silver Rabbit Club: The Electronica Mix, Vol. 6 – 2014
DJ Electro Mixology, Vol. 3 – 2014
Light of Day: Electronica Mix, Vol. 3 – 2014
Ehouse: Electronica Mix, Vol. 13 – 2014
Castle Electronica Collection: Home Party, Vol. 10 – 2014
Prince Kaybee Facebook
Prince Kaybee Twitter
Prince Kaybee Instagram
Prince Kaybee News
Prince KayBee and girlfriend Brown Bombo talk all things love and plans for the future
Source: Channel24.co.za
Prince Kaybee and Brown Mbombo are back together and closer than ever before – but they insist they're in no hurry to tie the knot.
They kept fans guessing for months – were they or weren't they an item? Rumours of a love affair had been doing the rounds for a while after the businesswoman hinted on social media she was more than just friends with the hot musician. Heart-shaped hands peppered their social media pages and a flurry of love emojis filled their feeds.
And when he posted a snap of himself holding hands with Brown Mbombo late last year, Prince Kaybee finally confirmed she was his new bae. The pair have been inseparable since. We meet Prince Kaybee and Brown at five-star boutique hotel Fairlawns in Morningside, Joburg, where the couple have also booked a spa treatment.
Prince Kaybee (30), real name Kabelo Motsamai, deserves some pampering after setting stages across the country alight during the festive season – and he wants to spoil his ladylove too. He enjoys treating his loved ones. Last year the singer gifted his mom a brandnew Mercedes-Benz for Christmas. "She can't even drive, but someone can drive her around," Kaybee tells DRUM.
Brown (29) has been incredibly supportive, he adds. She's been by his side as he travels the country doing gigs, and now he's spoiling her with a spa day. They're clearly head over heels, but not everyone's toasting their relationship. Kaybee's fans have had a field day on social media. "Someone said we won't last, and another person said I'm not pretty enough for him," Brown tells DRUM.
She laughs as she recalls another post. "One girl said she hopes I trip and fall." With two successful albums under his belt, Kaybee is still getting used to fans fawning over him. He points to a sporty BMW with tinted windows standing in the parking lot. The Charlotte hitmaker left his personalised BMW at home because "driving that car is a problem".
"A five-minute drive takes 40 minutes because we always have to stop for people who want to take pictures," he says. That's why he loves being with Brown – his fame doesn't bother her. "Some girls I've dated were fans – not Brown. This one doesn't give a f***, Kaybee says. "Outside I'm Prince Kaybee, but when I'm with her I'm Kabelo."
Brown is no stranger to being in the public eye. The model's twin sister, Blue, shot to fame when she starred in Big Brother and Diski Divas. She made a few cameo appearances, but Brown isn't chasing fame. "I'm a chill person. He has lots of female fans and it doesn't bother me. Sometimes they push me out of the way to get an autograph, but I guess it comes with dating a celebrity."
The couple have been dating since December, but they go way back. They grew up in neighbouring towns – Kaybee was raised in Welkom and Brown was born in Odendaal, in the Free State. "But we didn't know each other from back home," she says. They met on social media in 2016 after Kaybee had been frequenting Brown's Facebook timeline. "Yoh, the first thing I saw was her legs," he says. "So I posted 'Brown Mbombo is flames', and I tagged her."
When Brown responded with a thank you, Kaybee started following her on Instagram. They struck up a friendship but Brown was reluctant to take things to the next level. "You know people always say celebrities aren't loyal. Girls throw themselves at them and I didn't want to go through all the drama," she says.
But Kaybee wouldn't stop his pursuit of the model, so she agreed to go on a date. "We met up when he was in Welkom. He turned out to be a good guy – friendly and funny," Brown says. They got on so well they dated for about a year in 2017. But their love came to an end when Brown accused Kaybee of not supporting her after her grandmother, Grace Tladi, passed away.
"I was very close with my granny and he knew that, but he wasn't there for me. He was in Welkom at the time, but he didn't go to the funeral. He left and went to his gig in Limpopo," she recalls. The two separated for a year and dated other people. During the break Kaybee got another girl pregnant and now has a 14-month-old baby girl, Nana.
"She's the girl who told the papers to say I wasn't paying child support. That was a lie," Kaybee says. "But she's since apologised and we're on good terms now. She wanted to get a helper and I wanted my mom to be the one taking care of the child," he adds. When things between him and his baby mamma were ironed out, Kaybee reached out to his former flame. They rekindled their romance, he says, as "I was so in love with her I couldn't think straight".
They'd had their fair share of ups and downs, but Brown took him back because "he knows how to keep me smiling". Their split, she says, brought them closer together. "We talk about everything now," Brown says. "We're always together. I go to almost all his gigs." The lovebirds are crazy about each other but they're taking things slow. "Sometimes we talk about marriage, but we aren't pressured to get married anytime soon," Brown says.
The single mom says her son, Tinashe (8), and Kaybee's son from a previous relationship, Tebogo (12), haven't met yet. "We don't want to rush into anything," she reiterates. They're also not ready to move in together yet. "We don't want to vat 'n sit," she says with a laugh. For now they're enjoying getting to know each other again.
Brown runs KwaMbombo, the cleaning company she started with her twin, Blue, and their brother, Smanga. The celebrity couple love staying indoors and watching movies, she adds. "Kaybee doesn't like going out and we enjoy each other's company more so we cook at home and we chill." When he isn't snuggling up to his bae, Kaybee is putting the final touches on his new album, Re Mmino (We are Music), which was released on 1 March. Kaybee plans to tour Europe to promote the project and we're sure Brown will cheer him on from the stands.
Prince Kaybee Video