Simphiwe Dana is a South African Xhosa musician and songwriter born on 23 January 1980 in Butterworth, Eastern Cape, South Africa. She attended Vela Private school in Mthatha where she matriculated in 1997 and also attended Wits Technikon in Johannesburg where she studied National Diploma in IT.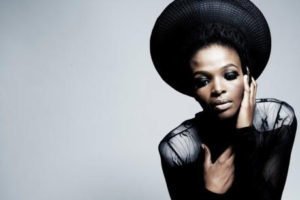 Simphiwe Dana Age
She was born on the 23rd of January 1980 in Butterworth, Eastern Cape, South Africa. As of 2020, she is 40 years old.
Simphiwe Dana Husband & Family
She has two children named Zazi and Phalo. Simphiwe was romantically involved with Hessel Pole but they parted ways and they could not live together anymore.
Simphiwe Dana Songs
Mayine
Inkwenkwezi
Ndiredi
Bantu Biko Street
Ilolo
Nzima
Fireband
My Light
Ndize Mama Tata
Zundiqondisise
Let's go Dancing
Nzinga
Sizophum Elokishini
Iliwa Lam
Troubled Soldier
Chula Ukunyathela
Ndim Nawe
Uzobuya Nini
The One Love Movement
Vukani
Thwel' Ubunzima
Roll Me Down
Chibok
Jikel' Emaweni
Was it All?
Induku
Killjoy
Jiya Jiya
Hay'ihambo
Fela's Azania
Ihilihili
Sabela
Simphiwe Dana Awards
2005: Best Newcomer during the South African Music Award for her album 'Zandisile'
2005: AVO Session Basel Award.
2005: Best Jazz Vocal album during the South African Music Awards
2007: Best Female artist,"The One Love Movement on Bantu Biko Street", at the 13th South African Music Awards.
Simphiwe Dana NZINGA LYRICS
Lalisitsho, lisithi
Ilizwe lifile, ilizwe liphelile
Ilizwe liphelile
Lalisitsho lisithiLalisitsho, liphuma
Entshonalanga, ngeke litshintshe
Ilizwe lifile
Lalisitshi ilizwe lifileNdiphuma kwinzinga yakho
Ndiphuma kwimilambo yakho
Ndemka nemilambo, mama
Ndingenakho, ndingenakho
Ndihlala ndikhangela, ndikhangela
Ubuhle, ubuhle, ubuhle bakho
Ngobukho bethu emhlabeni
Undenza ndiqhaqhe izono zamNdiphuma kwinzinga yakho
Ndiphuma kwimilambo yakho
Ndemka ndemka ndemka nemilambo Tata
Ndingenakho, ndingenakho
Ndihlala ndikhangela, ndikhangela
Ubuso, ubuso, ubuso bakho
Ngobukho bethu emhlabeni
Undenza ndiqhaqhe izono za

Ndikhangela, emadlakeni, bo
Kwampil' ay'thanjiswa
Phesheya ngaphaya
Uphuma phi na, ndiye khona
Ndibonise amandla ngawethu
Funga phezu kwengcwaba likaHani
Ngcwaba LikaBiko
LikaTambo
LikaMadiba
Simphiwe Dana Video