Simphiwe Ngema (born 29 August 1989) is a South African actress, singer, MC, presenter, and a choreographer. She studied Journalism at Boston Media House.
She has two sisters, an elder and a younger one.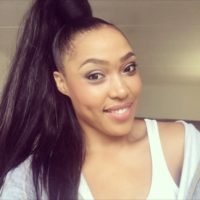 Simphiwe Ngema Age
She was born on the 29th of August 1989 in Klipspruit, Soweto Johannesburg South Africa. As of 2019, she is 30 years old.
Simphiwe Ngema Husband
She got married to her hubby (Dumi Masilela) in May 2017 in a traditional wedding ceremony. There are some pictures of the ceremony online.
She lost her husband during an attempted hijacking where he was shot, and he died on August 2, 2017.
Dumi and Simphiwe dated for three and a half years before he proposed and had been married for two months when he passed on.
Simphiwe Ngema Pregnant
Simhiwe Ngema was rumored to be pregnant, however, the family of late Rhythm City actor and musician Dumi Masilela has denied reports that their son's widow, Simphiwe, is pregnant.
A fake news report claimed Simphiwe had been 10-weeks pregnant when her husband died.
Simphiwe Ngema News
Simphiwe Ngema is letting go of her wedding ring
Adopted from channel24.co.za
It's been a year since Rhythm City actor Dumi Masilela died in an attempted hijacking in Tembisa, Johannesburg.
The actor was reported to have been sitting inside a Golf 7 when he was shot only a few short months after marrying sweetheart Simphiwe Ngema.
Now, having completed the traditional process of mourning for a year, Simphiwe has shared that it's time she lets go of her wedding ring.
Speaking about the ring in a social media post, Simphiwe said: "We have a love-hate relationship, sometimes I look at you and I smile. Sometimes I look at you and my heart bleeds.
It's almost time to let you go and the thought of living without you makes me anxious but holding on to you is more painful. I promise to keep you safe and to one day give you to the woman who will be Kgosi's heart keeper. I will love you, forever and always. (sic)"
Instagram
Twitter
Profile
Full Name: Simphiwe Ngema
Date of Birth: 29th of August 1989
Husband: Dumi Masilela (Late)
Occupation: Actress, singer, MC, presenter, and a choreographer