Winnie Mashaba (born 1 April 1981) is a popular South African multi-award winning gospel singer, songwriter, TV presenter and businesswoman.
She attended Mashupje High School up until grade 11 in 1998 and dropped out to pursue her gospel music passion.
Winnie holds a certificate in Adult Basic Education and Training and a Degree in Psychology too.
She grew up in a small village in Ga-Sekhukhune, Limpopo and was raised by a single parent and has seven siblings.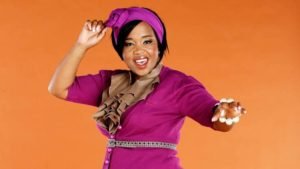 Winnie Mashaba Age
She was born on the first of 1st April 1981 in the small village of Kgoši Phasha, Steelpoort, South Africa. As of 2020, she is 39 years old.
Winnie Mashaba Husband
Winnie is married to Peter Mashaba and they have been together for the past 14 years. The musician and her husband would love to have children but have had to deal with loss on their road to parenthood.
"In my church, I was taught to respect each and every person – I wish that can be done for me also." In between her glittering gospel career and presenting Amahubo, Winnie also helps Peter run their publishing and events management company.
"He doesn't like for me to talk about us and I respect that," she says of her husband, who she describes as shy.
Winnie Mashaba Albums
Lefu Le Tshabeng Ellis Park Stadium
Modimo O Na Le Nna
Bophelo Ke Leeto
Go Tseba Jehova
Lehlotlo Laka
Kea Letshaba Lefase
1St Hymns Project Live Recorded
Joang Kapa Joang
Bonang Lerato
Thola ngwanesu
Motswelle Se Bapale Ka Kekere Ena
Dilo Tša Lefase
Very Best Of (Live)
Ke Rata Wena
O Tla Ya Kae?
Winnie Mashaba Songs
Lala Ho Nna
Eloi
Go tseba Jehovah
Ditheto
Ditebogo
O Mohau
Tsietsing
Ke Llela Moya
Menwana Phezulu
Ke Rata Wena
So We Follow
Nthapelele
Sione
Dumelang
Hayo Mathata
Re Dutse Re Lla
Eli Eli
Ke Se Ke Utlwile
Dula Le Nna
Ke Lethabo
Modisa
Wena Ngwanaka
Tsepo Yaka
Lehlotlo Laka
Kgotso Kgotso
Ka Letsatsi
Gosiame
Re Bone Mohlolo
Kaine
Dipolelo
Ke Tla Botša Messiyah Dilo Tša Lefase
Winnie Mashaba News
Adopted from all4women.co.za
Gospel singer Winnie Mashaba has not given up her dream of having children but says she is leaving it in God's hands
The musician and her husband of 14 years Peter Mashaba would love to have children but have had to deal with loss on their road to parenthood.
Winnie suffered two miscarriages in the past.
Speaking to Drum magazine, Winnie says she trusts God's timing.
"After two miscarriages, I gave everything to God. Sometimes I joke and say maybe Modimo (God) knows if He gives me children now, I'm going to neglect the other responsibilities I have," she told the publication.
Winnie is currently looking after her two younger siblings 
Helen and Karabo, who are in their early twenties, are living with Winnie and Peter while they complete their studies.
"Only God knows if I will have biological children or continue to take care of the children I have now," she told Drum.
Like many married couples, Winnie has had to deal with people constantly asking her when she will be having children, with some reminding the 37-year-old that her biological clock is ticking.
"I just laugh at them because I know everything will happen at the right time."
Her faith and her music keep her going through the difficult moments.
Winnie is celebrating 20 years in the music industry
She released her album, The Journey with Winnie Mashaba (Live at the Emperors Palace), earlier this year to coincide with her anniversary.
"Anyone who doesn't know Winnie Mashaba must get this album. You will understand where I'm coming from and what I've gone through in this industry. You'll know more about me," she told the publication.